Project PROTECT – Public Service Renewal in Action (November 2017)
In December 2015 at an anti‐money laundering (AML) conference in Toronto, Timea Nagy, a human trafficking survivor and victims advocate along with a constable of the Royal Canadian Mounted Police (RCMP) made a powerful address on the impacts of this appalling crime and the importance of mobilizing greater support to address it. Moved by her harrowing tale and recognizing an opportunity to make a difference, Peter Warrack, Director AML Advisory at BMO Financial Group, publicly pledged his support and turned to his counterparts, including FINTRAC, for help. The result has matured into an initiative known as Project PROTECT, a unique public‐private partnership that targets human trafficking for the purposes of sexual exploitation by focusing on the money laundering aspect of the crime. It is collaboration and innovation in action, improving outcomes for Canada and some of our most vulnerable citizens.
What is FINTRAC?
The Financial Transactions and Reports Analysis Centre of Canada (FINTRAC) is Canada's financial intelligence unit. We assist in the detection, prevention and deterrence of money laundering and terrorist financing, by ensuring compliance with the Proceeds of Crime (Money Laundering) and Terrorist Financing Act and providing actionable financial intelligence to trusted law enforcement and national security partners in Canada, as well as our international counterparts around the world.
For more information, please visit our website, https://fintrac-canafe.canada.ca, and follow us on Twitter, @FINTRAC_Canada.
In privileged countries like Canada, it's easy to think of human trafficking as something that only happens on the other side of the world or in movies where the hero will burst in just in time. No one wants to believe that it's happening in their country, their city, their neighbourhood. However, the reality is that it is happening here. It's happening in our major cities like Toronto and Vancouver, and in smaller centres like Regina and St. John's. It's even happening in the North. It's happening everywhere – but it's easy to miss or ignore the signs if you don't know what to look for. The key question is how do you shine a light on something that is hidden in the shadows or behind closed doors?
Human traffickers operate in a broad range of contexts and use all manner of tactics to commit and conceal their crimes, but there is at least one thing they have in common, from the smallest operations to the most sophisticated – it's all about the money. Recognizing this, FINTRAC and Canada's major banks joined forces to develop a comprehensive list of indicators to assist businesses in identifying financial transactions and patterns of activities related to human trafficking in the sex trade that may give rise to suspicions of money laundering. Banks and other businesses and individuals that are required by law to report financial transaction information to FINTRAC, now use these indicators as triggers for the suspicious transaction reports they send us in support of Project PROTECT.
Reporting entities like banks, credit unions and money services businesses, among others, have a legal obligation to submit a report to FINTRAC when they have reasonable grounds to suspect that a transaction or attempted transaction is related to the commission or attempted commission of a money laundering or terrorist activity financing offence. Unlike with other reporting obligations, there is no monetary threshold for suspicious transaction reports, and because these reports have a narrative component, they have the potential to provide tremendous intelligence value. Suspicious transaction reports are often the foundation of our financial intelligence disclosures related to Project PROTECT both for the details they provide and because individual transactions may not meet the thresholds for other report types.
In 2016, reporting entities across Canada submitted nearly 2000 suspicious transaction reports to FINTRAC relating to Project PROTECT – a 350% increase over similar reporting from the previous year.
Year to date in 2017, they have submitted more than 4200 reports.
To make our contributions to Project PROTECT, we analyze these suspicious transaction reports, along with other financial transaction reports and available information. When specific thresholds are met, we disclose financial intelligence to police and other law enforcement agencies to support their investigations into the money laundering aspects of the crime. These disclosures are used to confirm existing information, expand or refine the scope of their cases, shift their sights to new targets, obtain search warrants or production orders, and identify assets for seizure or forfeiture. Between January and December 2015, we issued 19 disclosures related to human trafficking. Of these, 47% were in reaction to voluntary information provided by our law enforcement partners. From the inception of Project PROTECT in January 2016 to November 2017, we issued 270 disclosures relating to 534 subjects. These disclosures were sent to the RCMP and/or other relevant police forces across the country, and some were also sent to the Canada Border Services Agency and Canada Revenue Agency. Ninety percent (90%) of these disclosures were proactive, meaning that they drew attention to possible cases that our partners may not have been aware of. We also provided disclosures to our counterparts in the United States, United Kingdom, the Netherlands, Portugal, Jamaica and Brazil. Human trafficking is a transnational crime and international cooperation is essential to its resolution.
Project PROTECT Disclosures by Province and Territory Footnote 1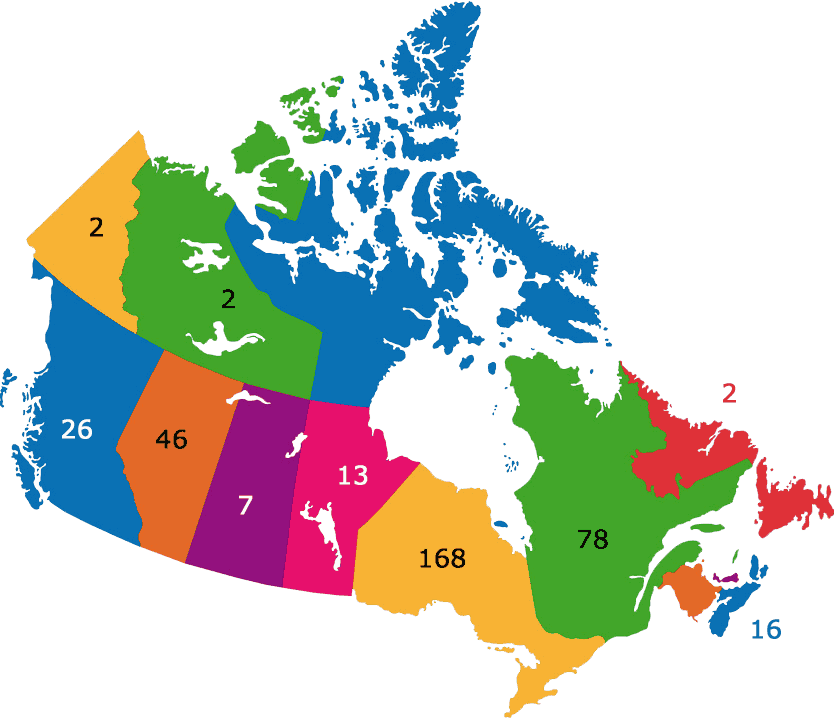 Public Service Renewal is all about maximizing our talents, working collaboratively, and finding innovative ways to serve the interests of Canadians. Project PROTECT exemplifies the best of these ideals. By working together, financial institutions, FINTRAC, and police and law enforcement agencies across the country have made the fight against human trafficking a priority. We follow the money to identify potential subjects and discover financial connections, providing intelligence that may advance investigations and ease the burden of proof on victims in court. The model is proving so effective that options are being explored to address other priorities, such as the opioid crisis. We have also shared our successes and lessons internationally by participating in events held by the United Nations, Interpol and the Organization for Security and Co‐operation in Europe.
Human traffickers and other criminals and terrorists seek to undermine Canadian values and abuse our financial systems for their own illicit purposes. The threats posed by money laundering and terrorist financing are on the rise, and our work has never been more relevant or important. For more information about Project PROTECT or FINTRAC's role, please contact us at guidelines-lignesdirectrices@fintrac‐canafe.gc.ca.